Today In Radiation Safety History
On April 11, 1970; the Apollo 13 spacecraft was launched to the moon. Two days later, en route to the Moon, a fault in the electrical system of one of the Service Module's oxygen tanks produced an explosion which caused a loss of electrical power and failure of both oxygen tanks. The Command Module remained functional on its own batteries and oxygen tank, which were designed to support the vehicle only during the last hours of flight. The crew shut down the Command Module and used the Lunar Module as a "lifeboat" during the return trip to Earth.
On April 17, Apollo 13 re-entered the Earth's atmosphere. The Lunar Module used to carry the astronauts back to Earth had a Radio-isotope Thermo-electric Generator (RTG) attached that contained 3.9 kilo-grams of Pu-238 (a total of 44,000 curies of Pu-238). While steering in the module for re-entry pilot Jim Lovell knew the RTG would survive re-entry and what effect it would have if it fell in a populated area. He knew the RTG had to be dumped in a remote area so he aimed trajectory of the Lunar Module toward the Tonga Trench off the coast of New Zealand.
The fuel cask from the SNAP-27 unit carried by the Apollo 13 mission currently lies in 20,000 feet (6,500 m) of water at the bottom of the Pacific Ocean. The cask survived re-entry, as it was designed to do, and no release of plutonium has been detected. The corrosion resistant materials of the capsule are expected to contain it for 10 half-lives (870 years).
The SNAP-27 units provided electric power for the Apollo Lunar Surface Experiment Packages (ALSEP) left on the Moon by Apollo 12, 14, 15, 16 and 17. These stations transmitted information about moonquakes, meteor impacts, lunar magnetic and gravitational fields, the Moon's internal temperature, and the Moon's atmosphere for several years after the missions. After ten years, a SNAP-27 still produced more than 90% of its initial output of 70 watts.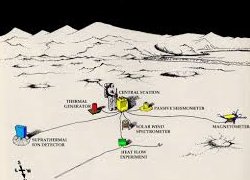 Now Offering
Contamination Surveys
of Products
Coming in From Japan
Call or email to Inquire
864-574-6415
sfowler@sfowler.com