Today In Radiation Safety History
On May 5, 1958 the Hiroshima Children's Peace Monument is unveiled. The Memorial was inspired by Sadako Sasaki a ten year old bomb survivor who succumb to leukemia in 1955. Several years after the atomic explosion, an increase in leukemia was observed especially among children. By the early 1950s, it was clear that the leukemia which was referred by the locals as atomic bomb disease had inflicted many young children.
Sadako so soon diagnose with leukemia and was admitted as a patient to the Hiroshima Red Cross Hospital for treatment and blood transfusions on February 21, 1955. In August she was moved into a room with a roommate, a junior high school student who was two years older than her. It was this roommate who told Sadako about the Japanese legend which promises that anyone who folds one thousand origami cranes will be granted a wish, and taught her how to fold the origami cranes. She folded 1400 cranes and her classmates folded an additional 1000 all of which was buried with her.
After her death schoolmates published a collection of letters in order to raise funds to build a memorial to her and all of the children who had died from the effects of the atomic bomb.In 1958, a statue of Sadako holding a golden crane was unveiled at the Memorial Park.
At the foot of the statue is a plaque that reads: "This is our cry. This is our prayer. Peace in the world."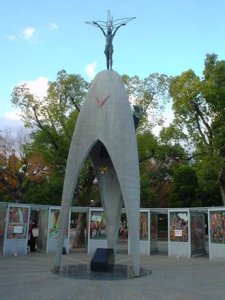 At the top is Sadako holding a giant crane, below hanging from the center is another golden crane.