Davis-Besse Nuclear Plant Under Investigation

Ohio nuclear plant owners may have altered records
Paraphrased by:
Steve Waldrop
September 3, 2002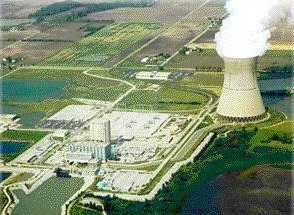 Cleveland- Federal regulators are investigating whether the owner of a nuclear plant where acid nearly ate through a 6-inch-thick steel reactor cap had altered records about the damage, First- Energy Corp. says.

Todd Schneider, a spokesman for FirstEngegy Corp., which owns the plant about 25 miles east of Toledo said that the utility was cooperating with the Nuclear Regulatory Commission but would not provide details of the investigation at the Davis-Besse plant near Toledo.

Schneider said that "Allegations of altered documents and records are part of this investigation."

Davis-Besse has been shut down since March, when engineers discovered that boric acid had nearly eaten through the steel cap on the reactor vessel. It was the most extensive corrosion ever found on a U.S. nuclear reactor and led to a nationwide review of all 69 similar plants.

The NRC has been investigating the corrosion and has said the leak that caused it should have been spotted as many as four years ago.

Agency spokesman Jan Strasma would not say whether officials were investigating whether FirstEngergy altered records.

A coalition of 14 environmental and nuclear watchdog groups is urging the NRC to order an independent review of the plant.

Coalition spokesman David Lochbaum, a nuclear engineer with the Union of Concerned Scientists, said that he was told by investigators that the NRC is investigating whether FirstEnergy backdated videotapes, falsified documents and withheld a photograph to make damage to the reactor lid seen less severe than it actually was.

Workers removed the damaged head by crane and finished the process in about five hours and were to begin installing a replacement. The new reactor head was brought to the plant from Consumer Energy's never-completed nuclear plant in Midland, Michigan. FirstEnergy is spending an estimated $55 million to $75 million to replace the reactor head. The old reactor head will remain at the plant while the Nuclear Regulatory Commission continues to investigate the damage.

According to FirstEnergy officials, the plant is expected to be operational by October.