Chernobyl Reactor Restarted
by Melissa Lovin

After being shut down for repairs on December 15 of last year, the only remaining reactor at the infamous Chernobyl nuclear power plant in the Ukraine that is still operational was restarted on March 6. In 1986, Chernobyl was the site of the world's worst nuclear accident, the effects of which are still being felt around the world today.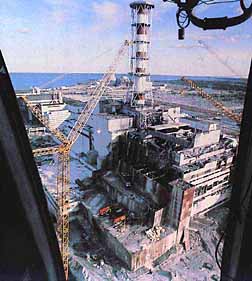 The massive explosion of Chernobyl's reactor no. 4 in 1986 was due, in large part, to insufficient or complete lack of training of the reactor's employees. Other factors included the dismissal of safety precautions and lack of attention paid to repeated warnings during the fateful shutdown and restarting of unit 4 on April 26, 1986. First rescue efforts were concentrated on saving unit 3 which was attached to reactor no. 4. By May 2, all of the fires within the reactor core were contained and reactor no. 3 was salvaged.
In 1986 the remains of reactor no. 4 were successfully entombed with a concrete "sarcophagus". Units number 1 and 2, undamaged in the incident, were restarted in October and November of 1986 (nearly 6 years faster than the reopening of undamaged reactors at Three Mile Island). Unit no. 3 was restarted in the summer of 1987.
In October of 1991 reactor no. 2 was shut down permenantly due to a serious fire in the turbine building. Shortly thereafter Parlaiment voted to shut down all of the remaining Chernobyl units at the end of 1993, but the decision was surprisingly overturned in October of 1993 before it could be enacted. Unit number 1 was closed in 1996 in a gradual phasing out of the nuclear plant. The only unit that remains active is reactor number 3.
The repair shut down of unit 3 on December 15 was initially delayed as a result of energy shortages in the former Soviet republic. It was originally scheduled to restart on February 16, but Energoatom, the state nuclear energy company claimed it needed more time for repairs. Safety upgrades and a check of the reactors regular and emergency cooling systems were included in the reported repairs. The reactor's successful restart was yet another milestone in Chernobyl's continuing story of successful operations since the disaster of 1986.